Lawn Care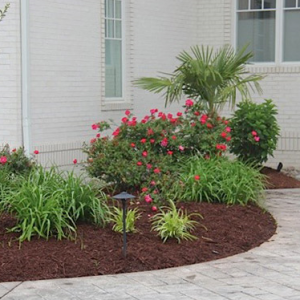 Best Lawn Care Company
You do not want the grass to be greener on the other side. Therefore, you will want the best lawn care company working on your lawn. We have over 26 years of experience. In fact, Newell Lawn & Landscape, will make sure your lawn is healthy, green and plush. You can count on us for all of the services that enhance your lawn. such as, mowing and edging tree and hedge trimming, and fertilizing.
We are proud of the gorgeous lawns that we care for and maintain. At the present time, our company services Chesapeake, Norfolk, Suffolk, Portsmouth and Virginia Beach. Contact us today for lawn mowing service.
Exceeding Industry Standards
An unkempt lawn just cries out for lawn service and maintenance. More importantly, it makes your house and entire property look seedy. Thus, reducing the property value. In addition, a neglected lawn reflects on the homeowner. We understand that proper lawn care requires a whole lot of work. In fact, that is why we are here! We thrive in exceeding industry standards. So, ask us for a free estimate on lawn mowing.
Save 10% on First Service
A well tended, attractive lawn does not just happen magically. Moreover, it requires continual upkeep, regular mowing, seasonal fertilizing and core aeration. Newell Lawn & Landscape in Southside Virginia will take care of all those little jobs that add up to a lot of time. Ultimately, we will make you the envy of the neighborhood. While, utilizing all our services. You can save 10% on your first service. In fact, our lawn maintenance services include:
*Mowing Grass *Edging the Lawn *Pulling Weeds *Trimming Trees *Trimming Hedges *Fertilizing *Pruning
*Seeding *Core Aeration *Mulch
How to Choose the Best Lawn Care Service
Do you know how to choose the best lawn service company. Especially since, hiring a professional lawn service company makes sound sense. Especially, for any homeowner that does not have the proper equipment or a green thumb. Of course, it saves you the time and trouble. Our company is made up of professionals who have more than a quarter century of experience. More specifically, in maintaining lush green lawns. More importantly, we have the proper tools, equipment and products to do the job efficiently and effectively. Let us handle the care and maintenance of your lawn. Ultimately, creating the lawn of your dreams.
Additional Lawn Care Services
| | | | | | | |
| --- | --- | --- | --- | --- | --- | --- |
| Mowing and Cutting | Edging and Trimming | Fertilization 6 step program | Seeding and Aeration | Tree and Shrub care | Bed blitz and Pruning | Fall/Winter clean-ups |
Most Beautiful Lawn
We make sure that your property in Chesapeake, Va. is the most beautiful lawn in your neighborhood. Certainly, this is the single most important lawn care service we can offer you. After all, this lays the groundwork for everything else we do. Plus, it serves to unify the whole in a natural way.
Why You Should Contact our Lawn Care Company
Reasons for you to contact us today. Firstly, to add beauty to your lawn with our lawn care service. Secondly, to increase your property value. Lastly, to set your mind and heart at ease. Knowing, that you used the best lawn & Landscaping company in Chesapeake.
Complete Lawn Care Services
Our company provides a full range of lawn care services in Chesapeake, Va.. For example, we will mow your grass to promote health. This includes, edging, weeding, tree trimming, hedge trimming and other lawn maintenance services. Further more, Newell Lawn & Landscape also perform fertilization, irrigation, installing and repairing sprinkler systems. In other words, we will keep your lawn in pristine condition all throughout the year. So that, you can enjoy a revitalized and flourishing landscape. Thus, Newell's focus is on beautifying and maintaining the quality of your yard for the edification of your property. To sum up, our company is just one phone call away from creating your dream lawn.
Newell's looks forward to not only providing for all of your lawn care needs in Chesapeake, VA.. But also, Virginia Beach and the surrounding areas.